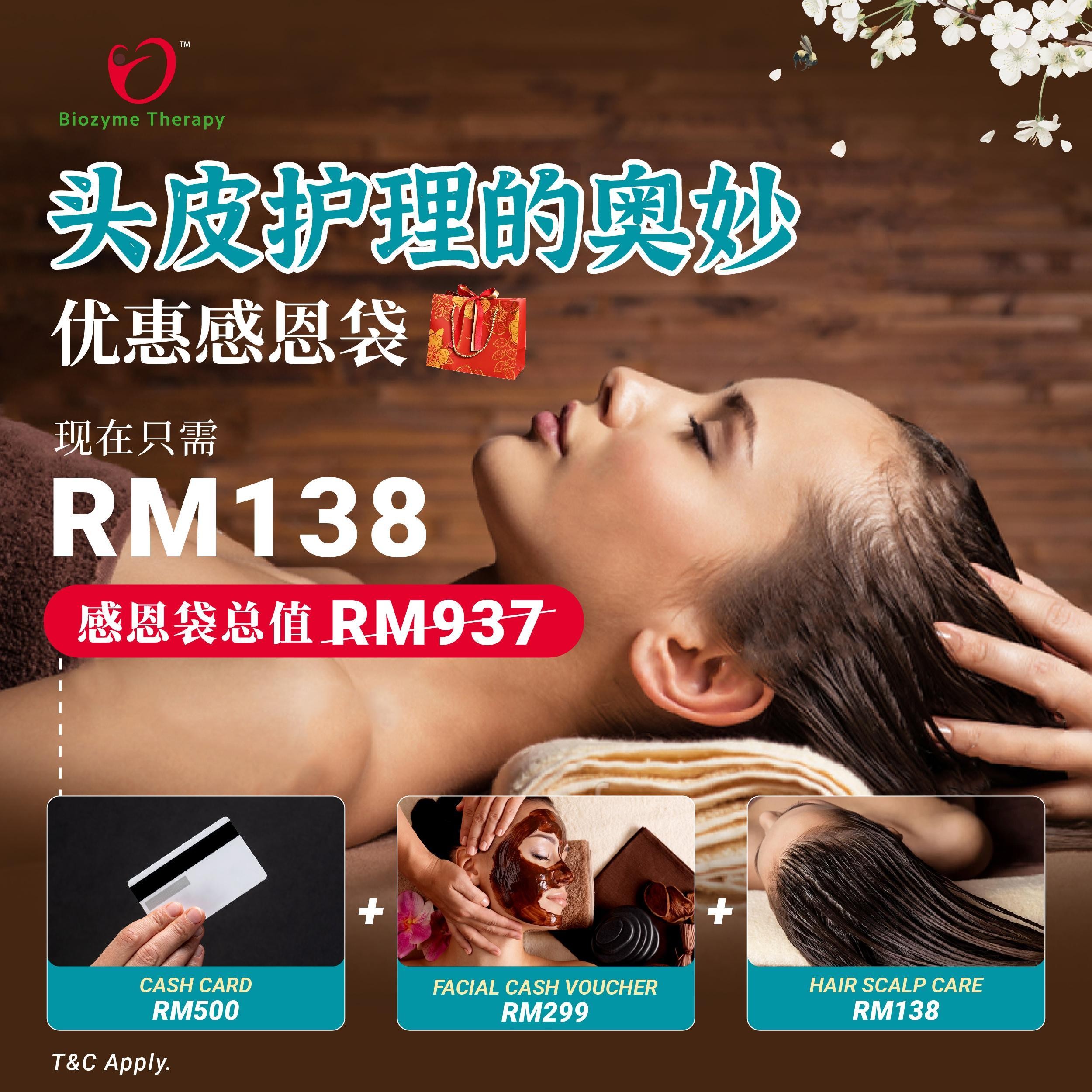 HAIR SCALP CARE GOODIES BAG
RM 138.00
Biozyme Therapy™ Hair Scalp Care Treatment. Deep relaxation from head to shoulder, the treatment rejuvenating the hair with its own unique benefits as well as immediate neck tension relief. It relaxes you almost immediately, and leaves your hair looking lustrous and feeling soft. Our hair scalp care treatments also help reduce the effects of pollution, dirt and sun, while strengthening your hair. The treatment could get rid of most of the hair and scalp issues : Hair breakage, Thinning hair, Hair fall, Dry and dull hair, Rough hair, Dry and itchy scalp, Slow hair growth, Dandruff, Oily scalp. Take time out to let your body rest and re-energize. Our hair spa immerses you in a holistic sense of wellbeing.
This treatment includes the following: - Hair Wash (Italy imported product) - Head Acupressure - Hair Herbs Steaming - Face Wash - Face Mask - Facial Acupressure - Shoulder Acupressure
The Goodie Bag include :
1x Biozyme Therapy™ Hair Scalp Care Treatment @RM138.00
1x Facial Treatment Cash Voucher (By Sparkle Beauty) @RM299.00
1xBiozyme Therapy™ member Cash Card (RM10.00 application) @RM500.00
Total Cash Value @RM937.00
---
What's Included
HAIR SCALP CARE GOODIES BAG x1
Warning!
Please login first. Login
here
.